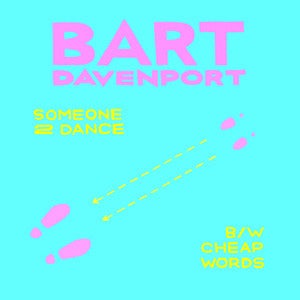 $

5.00
Side A: Someone2Dance
Side B: Cheap Words
Bart Davenport follows up his critically acclaimed 2010 covers album Searching For Bart Davenport with a blast of power pop right out of 1980. A side Someone2Dance channels equal parts Dwight Twilley and The Cars; a righteous affirmation of romantic liberation awash in reverb and complete with meltdown guitar solo. B side Cheap Words deconstructs earlier pop versions of the song, with producer and longtime BD collaborator Sam Flax matching the dark lyric with a bed of minimal synthesizer and drum machine.
The Someone2Dance 7″ is a co-release with San Francisco's Smile! Records, the new imprint from Bay Area svengali Neil Martinson. The vinyl is limited to a print run 500 copies, with covers hand-screened by Neil, and each copy comes with an MP3 download code.
Listen to Side A, Someone2Dance below.