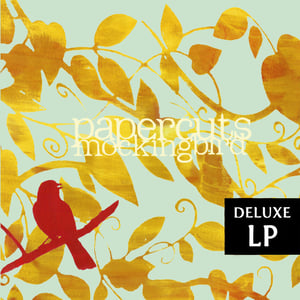 $

18.00
All copies ship with limited edition poster while supplies last!


Tracklisting:
01) Mockingbird
02) Poor and Free
03) A Fairy Tale
04) Pan American Blues Pt. 2
05) My Ivory Tower
06) December Morning
07) Tulips
08) Nobody's Son
09) Judy
10) Well I Don't
11) Shy [Bonus 7" Track]
12) Lost Parade [Bonus 7" Track]
Antenna Farm is proud to present the newly re-issued Mockingbird LP from San Francisco's renowned dream pop band, Papercuts. Originally only released on CD, AF is re-releasing Mockingbird on a limited edition blue vinyl LP (140 gram vinyl, limited to 500 copies) newly re-mastered by California vinyl auteur JJ Golden and including a bonus 7" of two previously unreleased tracks from the Mockingbird sessions; all 12 tracks are included as a free MP3 download with the LP.
Papercuts have been doing their thing in the Bay Area since the early 2000s, with numerous Noise Pop, Mission Creek, SXSW, and CMJ appearances under their belt. They've toured and recorded with the likes of Grizzly Bear, Beach House, and Deerhoof. Quever has also worked with some of the SF Bay Area's most prominent bands and songwriters, including Vetiver, Casiotone for the Painfully Alone, Cass McCombs, and many more.
Jason Quever handles all songwriting duties and much of the instrumentation on Mockingbird. He's joined by Matt Popieluch (Foreign Born) on keys and backing vocals and Luke Top (Fools Gold) on drums, as well as Natalie Mazzuca on viola.
"Somewhere between the dreamy dirges of Galaxie 500 and the offbeat charm of Jad Fair, topped off with an endearing, held-together-with-gaffer-tape feel which belies Quever's instinctive ear for sharp-as-a-whip melodies and layered production." — Uncut
"A delicate mood piece made to cut through the din and chaos of modern life. " — Pitchfork
"Quever is the master of unhurried lyricism, songs that seem like they might go on forever, or at least for the length of a sunny afternoon." — Dusted
Listen: