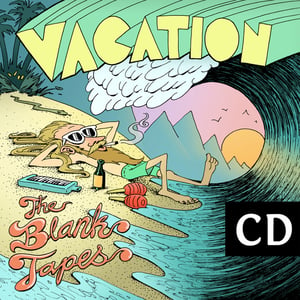 $

12.00
release date:
5/14/13
All orders come with a limited edition tour poster while supplies last!!
tracklisting:
1) Uh Oh
2) Coast to Coast
3) Tamarind Seeds
4) Pearl
5) Double Rainbow
6) Brazilia
7) Don't Ever Get Old
8) Vacation
9) Earring
10) Holy Roller
11) Workin'
"The Blank Tapes sound like the Archies if Lou Reed had written their
songs." -- The New Yorker
"A bent version of 60's pop...really fun." -- NPR
"A Winsome Garage-Pop Gem." -- SPIN
"Awesome every time." -- LA Weekly
Following years of self-recorded album and EP releases, including work for venerable LA labels White Noise and Burger Records, relentless touring in the US, Japan, Europe & Brazil, Matt Adams and The Blank Tapes return with Vacation, the first ever full Blank Tapes album recorded outside of Adams' home studio.
Full of the kind of three-part harmonies the Wilson Brothers used to love, Vacation has songs that transplant the style and sentiment of immortals like Ray Davies and Robyn Hitchcock ("Earring") or Kris Kristofferson and Terry Allen ("Working," "Vacation") or even Lou Reed ("Pearl," written about girlfriend and current Blank Tapes drummer Pearl Charles the night he met her) and Buddy Holly (the adorable bridge of "Coast to Coast") or even Os Mutantes on "Brazilia," a bossa-delic song inspired by Adams' informal park jam sessions on his Brazilian
tour. Vacation is an everything-old-is-new-again album—a record chasing down timelessness in its own time.
Play 'Coast To Coast' from Vacation
MP3 available from iTunes

Or Order the CD.